Kilmaley Voluntary Housing
Project Name
Kilmaley Voluntary Housing
Client:
Kilmaley Voluntary Housing Association
Team:
Architect: Hassett Leyden & Associates
Structural Engineer: Hassett Leyden & Associates
Mechanical Engineer: Finbar Pigott & Partners
Electrical Engineer: Finbar Pigott & Partners
Quantity Surveyor: Lawlor & Partners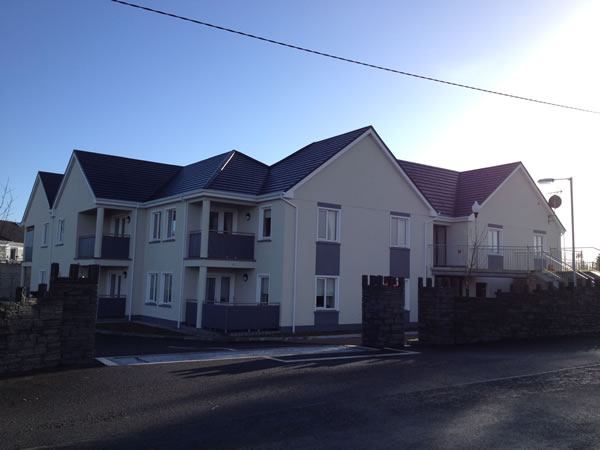 12 No Voluntary Housing Units
The project involves the construction of 12nr housing units for the elderly. The 2-bedroomed units are fully finished to a high standard and are heated with a combination of wood-chip and gas fired systems. A sophisticated controls, metering and billing system is another important element of the project.
The units are constructed over 2 floors, they surround an internal courtyard and are accessed by an upper level walkway as well as from a new entrance at the lower level. Access between the floors is by way of external lift or stairs. Walkways at the upper level provide access for the stairs and lift to the individual units.
Extension to Day Care Centre
Mechanical & Electrical Installation, Piled Foundations, Curved Glass Block Wall, Motorised Rooflights, Zinc Feature around Window, Connection to Existing Services, All Site Works & Landscaping